Venison Sausage Stuffed Acorn Squash
Enjoy a recipe from our ambassadors WildHart Outdoors with a Venison Sausage Stuffed Acorn Squash - just in time for the holidays!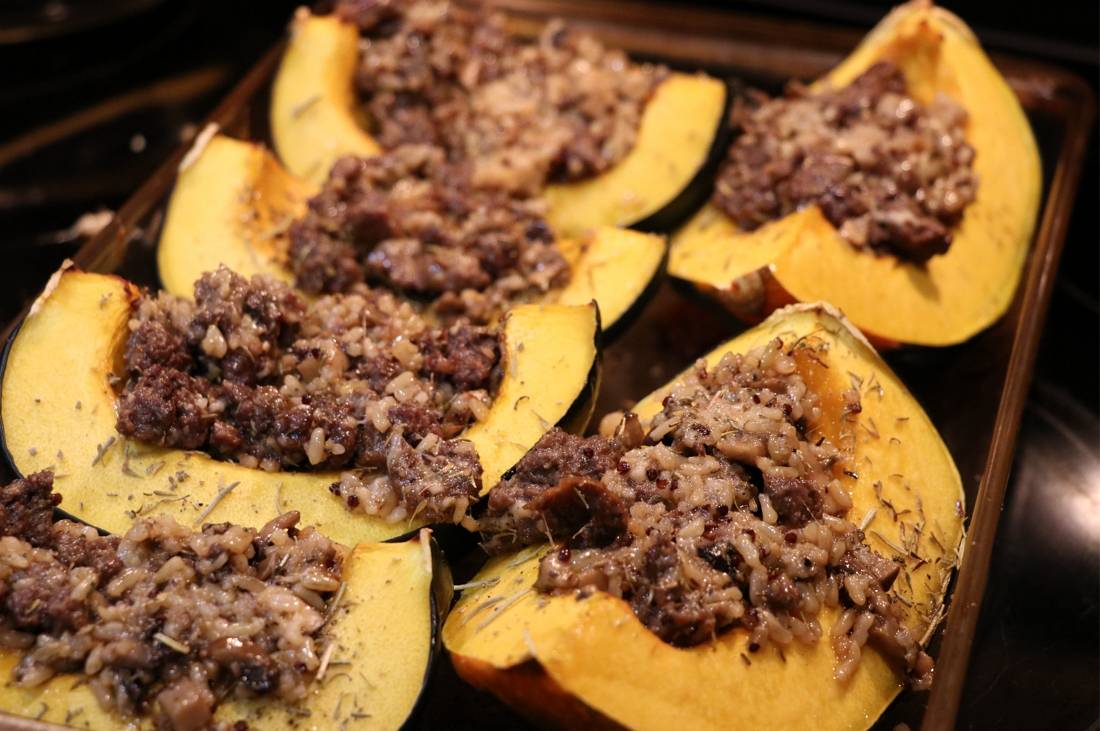 • 2 Acorn Squash, seeds scooped out and cut in quarters
• 2 tbsp Butter
• 2 tbsp Brown Sugar
• 1 tsp Sage, Thyme and Rosemary
• 1 tbsp Olive Oil
• 1 lb Venison Sausage
• 2 Cloves Minced Garlic
• 1 cup Portobello Mushrooms, diced
• 1 cup Button Mushrooms, diced
• 1 cup Cremini Mushrooms, diced
• ½ cup Beef Broth
• 1 tbsp Red Wine
• 1 tsp Balsamic Vinegar
• 1 cup Wild Rice
• ½ cup Parmesan Cheese, shredded
• 1 tsp Sage
• 1 tsp Thyme
1. Preheat oven to 400 degrees.

2. Cut acorn squash in half, then cut the halves in half (you should have eight quarters total from the two squash.

3. Brush squash with melted butter and brown sugar and coat with sage, thyme and rosemary. Cook for 30 minutes.

4. Meanwhile, cook the rice according to package and chop up the mushrooms

5. Heat olive oil in a large pan on medium and sauté sausage until golden brown. Add garlic and mushrooms and saute for another 3-4 minutes. Add beef broth, red wine and balsamic vinegar and simmer for 10 minutes until the juices are mostly gone.

6. Add wild rice and parmesan cheese and cook for another 2 minutes. Remove from heat and stir in sage and thyme.

7. Stuff the cooked squash with the venison and mushroom mixture.

8. Bake squash for another 5 minutes, and serve.